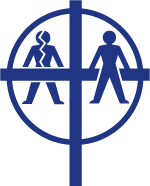 Stephen Ministry is an incredible way to encourage, help and provide biblical counseling to our members and guests. Katie Hixson and Carolyn Noble will be leading the program, having received training in July to serve as Stephen Ministry leaders.
Stephen Ministry, named after Stephen in the New Testament who was dedicated to the care and service of others, equips lay people to provide confidential, one-to-one Christian care to individuals within the congregation and community who are experiencing difficulties in their lives. Pastors will always be on the front lines of care, especially during times of crisis. But there are always many more needs for ongoing, one-to-one care than pastors can effectively meet by themselves. Stephen Ministry provides a biblical solution—equipping God's people for ministry. Gifted lay people are trained to support and extend the care that pastors continue to provide. In order to do so, individuals within the congregation receive 40-50 hours of training in Christian caregiving, are carefully matched with care receivers by gender and pertinent life experiences, and receive ongoing supervision by a trained Stephen Leader in the church.
If you're interested in becoming a Stephen Minister, please contact us and reserve your spot for the upcoming training sessions.
Stephen Ministers provide high-quality, confidential, Christ-centered care and support to people experiencing grief, divorce, cancer, job loss, loneliness, disability, relocation, and other life difficulties.
Some of the other blessings and benefits of a church providing Stephen Ministry include:
Pastors don't carry the burden of being the congregation's sole caregivers. They have a team of gifted, trained, committed lay caregivers ready to minister to hurting people inside and outside the congregation.
Laypeople have a chance to use and strengthen their leadership and caregiving gifts in meaningful ministry–serving others while experiencing tremendous spiritual growth.
People who are hurting no longer suffer alone. A caring Christian friend comes alongside them to provide emotional and spiritual care for as long as the need persists.